Details
Good News: THL T100S Support Free Shipping, and We will send Flip Cover and Screen Protector as a gift.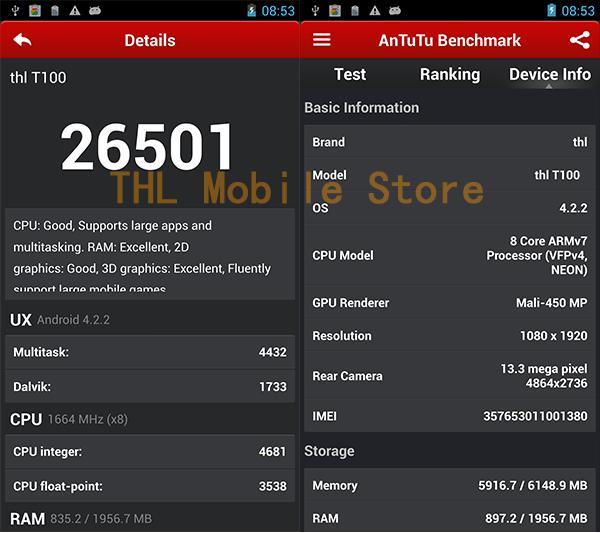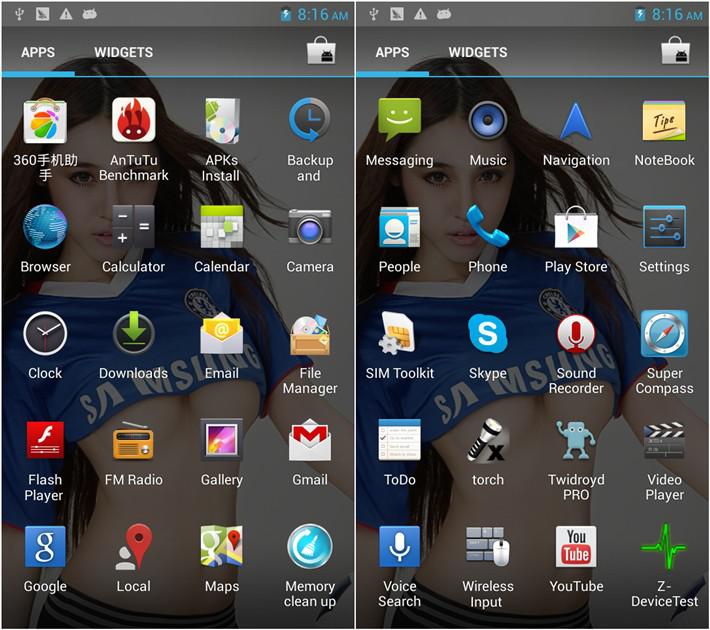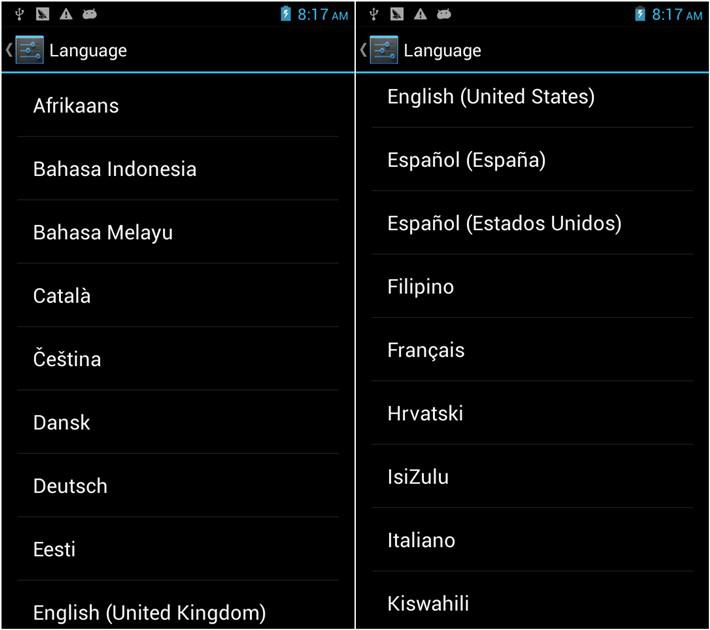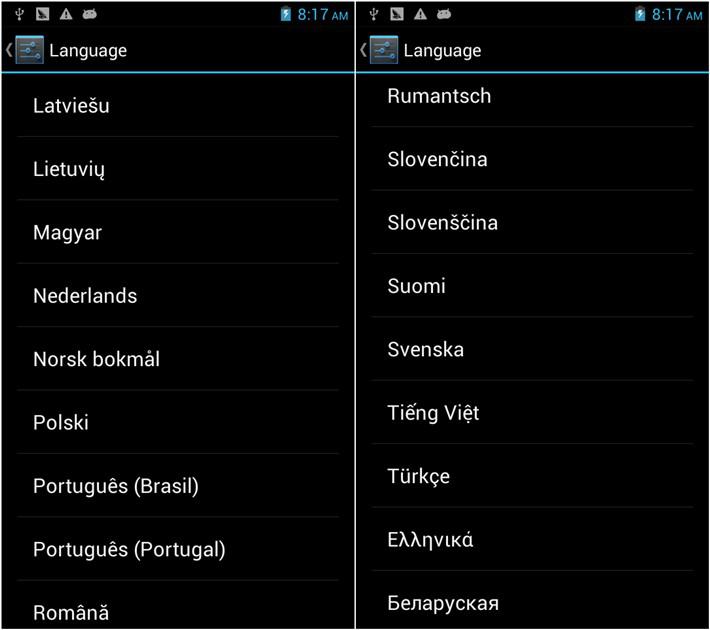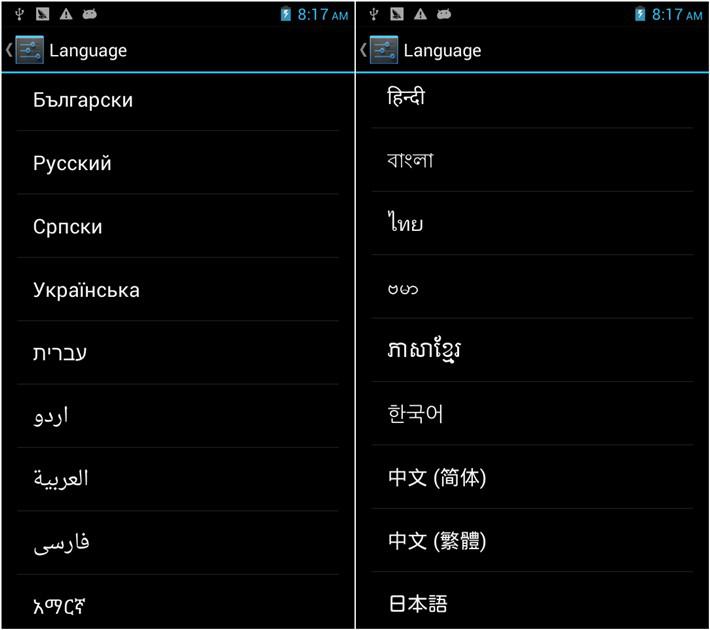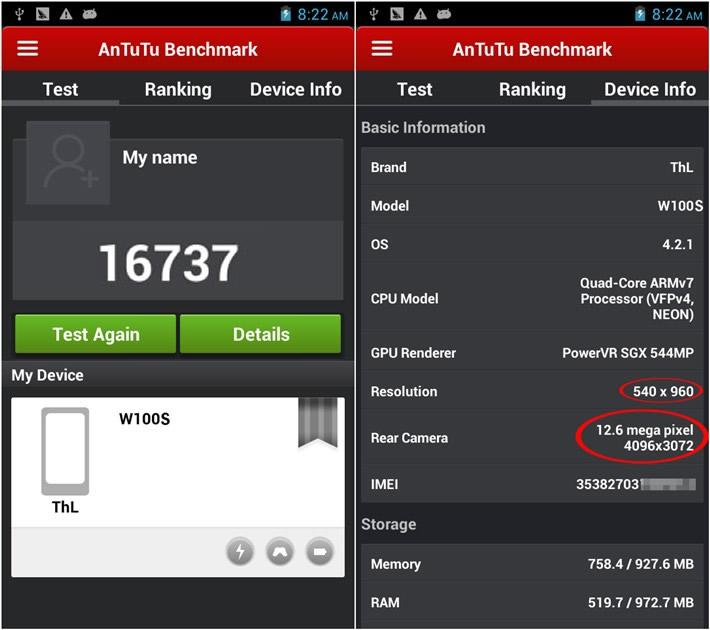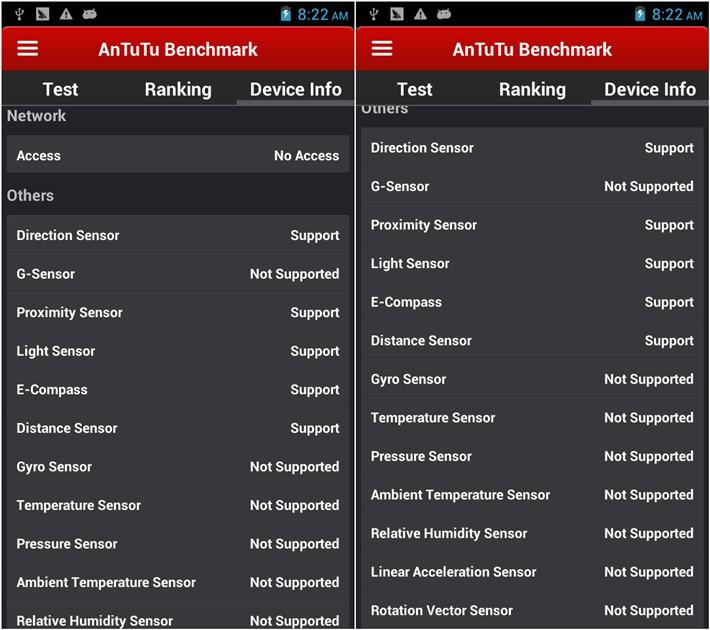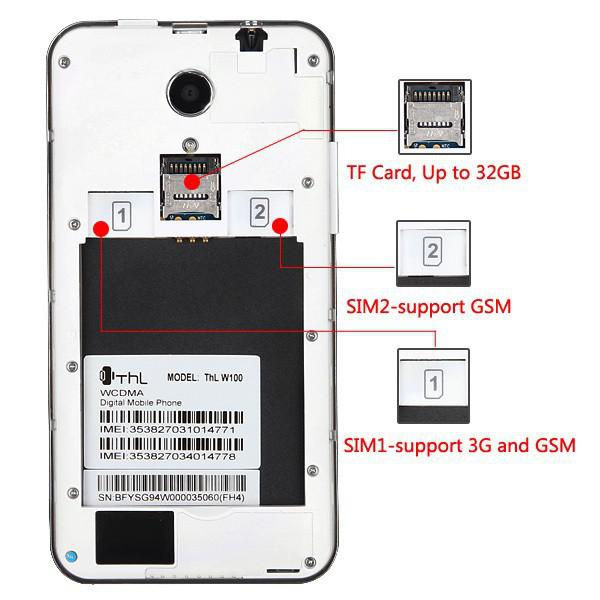 ThL W100S is the THL W100 Upgrade version, MTK6582M quad core, up to 1.3GHz, 1G RAM + 4G ROM with 960*540 QHD screen, $159.00 price is quite amazing and impressive. Android 4.2.1 OS, promises quite a fast operation speed. 5.0MP front camera for convenient self-capturing, 8.0MP back camera for you to record every single moment clearly; 3G, GPS, WiFi, WiFi direct, hotspot, etc all available to make this ThL W100S the most valuable choice.
ThL W100S Smartphone will only work with GSM + WCDMA network
(1)Compatible 3G network: WCDMA 850/2100MHz
(2)Compatible 2G Networks: GSM 850/900/1800/1900MHZ
ThL W100S Smartphone is unlocked for worldwide use, make sure your local area network is compatible with this phone, you can click here( http://maps.mobileworldlive.com/ ) to see the frequency for your country, please confirm these frequencies with your network operator or providers before buying this phone.
ThL W100S Basic Parameter Information
Model: ThL W100S
Band: 2G: GSM 850/900/1800/1900MHz
         3G: WCDMA 850/2100MHz
Sim Card: Dual SIM Card Dual Standby
Service Provide: Unlocked
Style: Bar
Color: White
Shell Material: Plastic
OS: Android 4.2.1
CPU: MTK6582M, Cortex A7 quad core, 1.3GHz
GPU: PowerVR SGX 544
ROM: 4GB
RAM: 1GB
Display Size: 4.5 Inch
Type: IPS, capacitive touch screen
Resolution: 960*540 (QHD)
Screen Color: 16000K Colors

ThL W100S Basic Function
Ringtones Type: Polyphonic/MP3
Audio File Format: MP3/WAV/eAAC+/AC3/FLAC
Video File Format: MP4/DivX/XviD/WMV/H.264/H.263
Image File Format: JPEG/BMP/GIF/PNG/GIF
E-book Format: TXT/CHM/DOC/HTML
FM Radio: Yes, earphone needed
Earphone Port: 3.5mm
Card Extend: Support TF card up to 16GB extended
Camera/Picture Resolution: Dual Cameras, front camera 5.0MP, back camera 8.0MP with flashlight and auto focus
Language: English, Bahasa Indonesia, Bahasa Melayu, Cestina, Deutsch,Espanol, Filipino, French, Italiano, Magyar, Nederlands,Portuguese, Romana, Vietnamese, Turkish, Greek, Russian,Arabic,Thai, Chinese
Phonebook: 500
Message: SMS/MMS
Input: Handwrite/Keypad
TV: No
GPS: Yes, built in, also support A-GPS With EPO assistance to speed up postioning
JAVA: No
WIFI: Yes, 802.11 b/g/n
Bluetooth: Bluetooth 2.1
Gravity Sensor: Yes
Multi-Touch: Yes , 5 point touch
Dimensions: 134 x 69 x 10.3mm/5.27 x 2.71 x 0.4 inch
Net Weight(Including battery): 135g
Standby Time: About 2~3 days
Other Feature: 3G, WIFI, GPS, FM, Bluetooth, Ebook, Email, Messaging, wallpapers,calendar, calculator, clock, camera, Play Store, compass, etc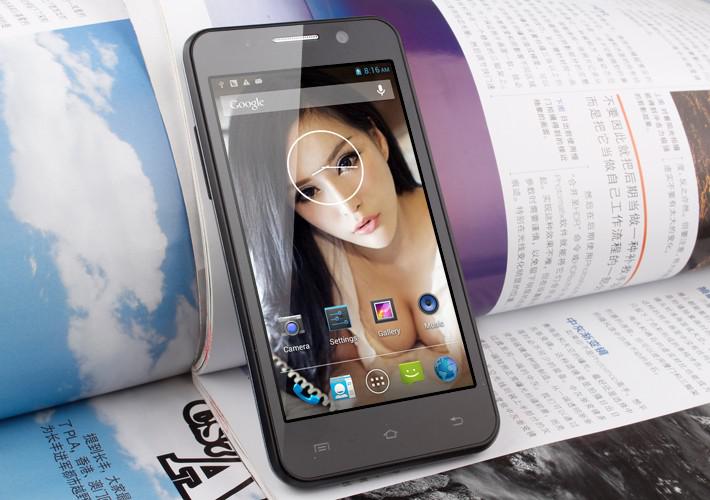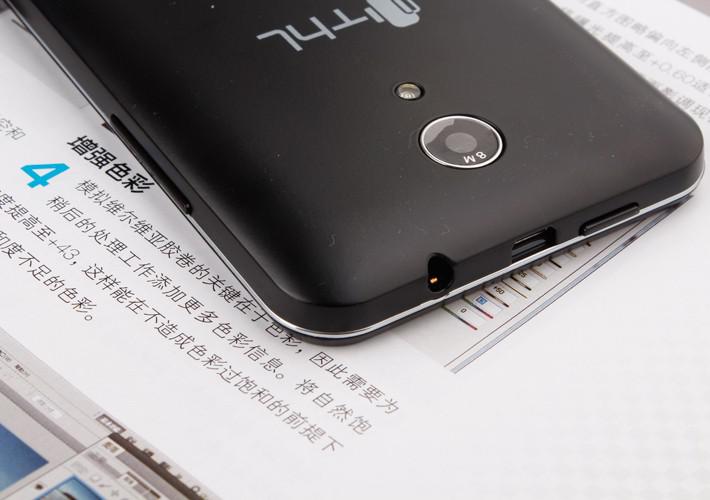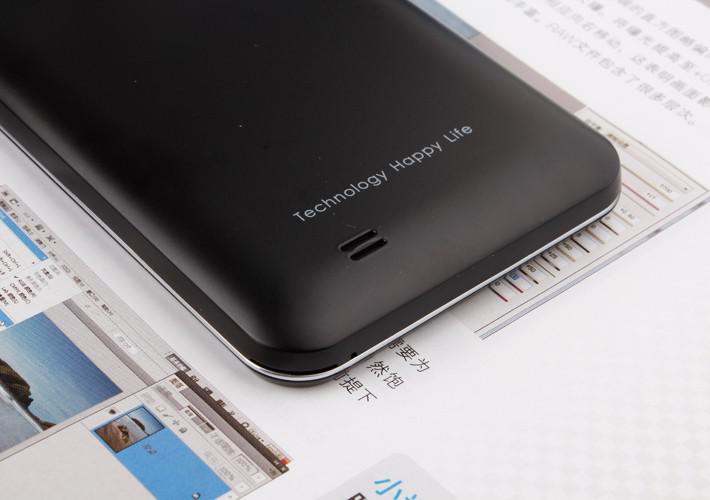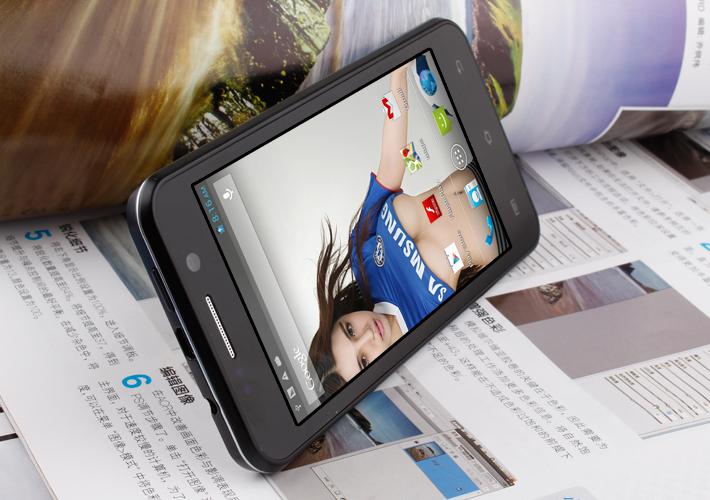 ThL W100S Package
Size: 173 x 92 x 60mm/6.81 x 3.62 x 2.36 inch
Weight: 525g
ThL W100S Accessories:
1 x 1800mAh Battery
1 x 3.5mm Earphone
1 x USB Cable
1 x Charger
1 x Screen Protector
1 x English User Manual
You may also be interested in the following product(s)
Questions on THL W100S SmartPhone Android 4.2 MTK6582m 1.3GHZ Quad-Core 4.5 Inch IPS Screen 5.0MP Front Camera Black
Sort by

From panos at

9/28/14 12:33 PM

From Jose at

8/5/14 10:52 AM

From Les at

5/23/14 9:52 AM

From master at

5/22/14 12:50 PM

From bambal at

5/21/14 5:55 AM

From Bambal at

5/20/14 2:39 AM

Thank you for your mail .
True connoisseurs of this phone has long been waiting for the new firmware. Could you clarify the approximate release date?
Thl Mobile :
Thank you for your mail .
Our factory is testing the latest firmware ,pls wait for another several days ,we will submit it on our website soon .

From bambal at

5/20/14 12:09 AM

From bambal at

5/19/14 12:28 PM

hello world ! What version of firmware is on the new phones? And where to download the latest firmware? Thanks
Thl Mobile :
Thank you for your mail .
Our factory is testing the latest firmware ,pls wait for another several days ,we will submit it on our website soon .

From Fiona at

5/17/14 1:19 AM

From John at

4/20/14 9:43 AM

From mami at

4/20/14 5:17 PM

From Abraham at

4/17/14 1:52 AM

At "thlmobile" the THLW100S frequencies specifications are 2G: 850/900/1800/1900 and 3G: 2100. While in your specifications 2G is the same while 3G is 850/2100. Which 2G and 3G frequencies are actually supported by THLW100S?
THL Mobile
Thank you for your mail.
THL W100S phone 3G support 850/2100 MHz.

From Márcio at

4/16/14 5:46 PM

My w100s stops (pauses) the music player a few after connecting the earphone. Same thing happens with internet radio apps. Same thing when connecting to Harman Kardon audio device instead of earphone. What would be wrong?
Other question: tty symbol appears when earphone is connected. How to disable it?
Thanks.
Thl Mobile :
Thank you for your mail .
Please change another original earphone to check with it .

From cfs010 at

4/12/14 8:59 AM

From jack luzon at

4/11/14 2:31 AM

From kostas at

3/31/14 11:25 PM

From João Costa at

3/27/14 11:54 PM

From kostas at

3/21/14 11:46 AM

From Wilfried from Germany at

3/11/14 11:36 AM

From Eli at

3/7/14 10:24 PM

W100S order #920007520:
Rear camera auto-focus stopped working. Image on screen remains blurred.
By the way front camera focus is working correctly.
Is there a fix? Thank you.
Thl Mobile :
Thank you for your mail .
Please reset your device to factory mode: Setting-backup&reset -Factory Data Reset

From Pedro at

3/3/14 10:09 AM

Good afternoon,

When is that there will be a new ROM for the device, since the latter came out for 3 months?

There is a problem with the % of the battery and the new ROM could solve the problem.

greetings
Thl Mobile :
Thank you for your mail .
We will submit the latest firmware on our website soon .

From Djordje at

3/1/14 5:08 AM

I have THL W100, and I want to upgrade its THL V1 firmware to ThL W100S Android 4.2.2 the latest firmware, is it possible? Will it brick? When will be released KitKat for THL W100? Thanks :D
Thl Mobile :
Thank you for your mail .
We will email you at the first time when the latest firmware Android 4.4 KitKat on our website soon .

From Totto at

2/19/14 1:52 PM

Hi. I'm looking to buy a screen protector for my W100, but the shop I'm using only has protectors for the W100S model.

As far I can tell both screens are the same. Is that so, and can I use a W100S protector on my W100 screen?

I think the info would be of help to other users also?

Thanks for your time.
Thl Mobile :
Thank you for your mail .
We will release the screen protector for thl W100S phone on our website soon .

From Ofek edut at

2/19/14 5:34 AM

From Sandra at

2/17/14 9:00 PM

From Harry at

2/16/14 2:22 AM

From Carlucci at

2/14/14 5:11 AM

From ovidiu at

2/13/14 1:18 AM

From Michael at

2/9/14 1:16 PM

hello world, I have the order number 920008968 could you put a lower price due to avoid taxes?..and I hope that the chargers are suitable for Greece/European Union,right?!?Thank you in expense..
Thl Mobile :
Thank you for your mail .
We can help you reduce and avoid import taxes by declaring prices low, declaring the contents as "electronic accessories" or other items and shipping in simple packaging.
Don't worry ,we can send the suitable plug according to your country .

From Stephan at

2/9/14 11:59 PM

From Giorgos at

2/7/14 5:09 AM

From Nana at

2/5/14 5:59 AM

hello world I am interesting in buying W100S. However prior to the buy I would like to know the warranty period of this product and the shipping cost for shipment to Greece. Also I would appreciated if you could let me know about any duties that are applied to shipment in Greece.

Thank you
Nana
Thl Mobile:
Thank you for your mail .
All our thl phone come with 12 months factory warranty and the shipping cost to Greece is $11.6 via Singapore post .

From Cesar Fabian at

1/24/14 3:18 AM

From Martín at

1/23/14 6:57 AM

From katsok at

1/18/14 1:42 PM

I`ve bought the w100s and for three weeks everything was fine the phone worked great sience last Fryday the phone start to crash - turned off - I tried the factory reset and it still crashes and also I`ve reinstalled the latest firmware successfully but it`s still crashes should I install again with the "PRELOADER" checked? What should I do?
Thl Mobile :
Thank you for your mail .
Please remove the battery ,then reset your phone .

From Frixtr at

1/15/14 12:48 AM

From Moriya at

1/9/14 12:57 AM

From Dabiel at

1/9/14 11:45 PM

From Pierre at

1/8/14 12:36 PM

From Ricardo Cortes at

1/2/14 10:12 PM

Hi, I bought a THL W100 (old version) some months ago and it has worked so good, but one week ago the back camera and flash do not work (the app does not recognize the back camera) . How can I do? Do you sell the back camera (spare part)?
Thl mobile :
Thank you for your mail .
Please reset the device to factory mode: Setting-backup&reset -Factory Data Reset

From Vangelis at

1/1/14 4:59 AM

Hallo, is W100S black in stock?
Is there a back silicon case, or flip case I can order?
If I want 2-3 more screen protectors, can I have them?
Thanks!
Thl mobile :
Thank you for your mail .
Thl w100s black version is in stock and ready to send now .
It comes with a flip case , a plastic shellback and a screen protector.


From Filipe Freitas at

12/31/13 8:39 AM

From BT at

12/30/13 8:08 AM

hello world,
I have purchased a w100s
My order number is #920007512
can tell me how long it takes to reach?
thank you
Thl mobile :
Thank you for your mail .
Your parcel has already been sent out via Singapore post with the tracking number RF191443834SG ,please refer here (http://www.17track.net/en/result/post.shtml?nums=RF191443834SG)

From Hugo at

12/27/13 7:34 AM

Hi.
I have a Thl W100s and a problem: The loudspeaker volume is too low when in a call.

How can i raise it?
Please Help.

Thank you
Thl mobile :
Thank you for your mail .
Raise the speaker volume:
1. Enter *#15963#* engineering menu:
2. Select Audio> Loudspeaker mode

From Andrei at

12/27/13 4:08 AM

hello world, I have purchased a w100s, my order number is #920007977. Could you please help me and write an amount lower than 50$ so that I will avoid Customs tax? Thank you for your attention!
Thl mobile :
Thank you for your mail .
We can write a smaller value lower than 50usd in the shipping documents so to avoid or reduce custom duties and tax.

From Andrei at

12/25/13 2:04 AM

I toked 3 months ago a THL model w8s and I'm very satisfied with it. I would like to order a w100s aswell but I see the shipping is no longer free to Romania. Can you confirm this, and if so, can you tell me what will the shipping price amount to?
Thl mobile :
Thank you for your mail .
The shipping cost to Romania is $11.6 via Singapore post and the total is $161.59

From Brent at

12/18/13 3:44 AM

From Paulo at

12/17/13 7:39 AM

From Martin18 at

12/13/13 1:11 PM

hello world, I would like to buy 20pcs, how total cost could you give me, incl. shipping by DHL to Czech Republic?
Thanks for reply on my email
Martin18
Thl mobile :
Thank you for your mail.
For 20 units THL W100S SmartPhone for $132.40 each , and the shipping cost to Czech Republic is $217.70 via DHL,the total is $2,865.70

From carlos at

12/13/13 12:51 PM

hello world,
How many batteries sent to the mobile?
How much is the shipping to Spain?
How many time to get the shipping to Spain?

Thanks
Thl mobile :
Thank you for your mail .
Thl w100s comes with 1 battery , and the shipping cost is $11.6 via Singapore post with the tracking number 15-25 working days around to arrive at you .

From Dabiel at

12/13/13 1:33 AM

I made my order yesterday, I assume that christmas days and end year can delay a little more the delivery, right?
Thl mobile :
Thank you for your mail .
Could you kindly tell us your order number firstly ?
We will help you check whether it has been dispatched or not .


From Jaime at

12/12/13 6:16 PM

From eduardo at

12/12/13 5:48 PM

From Alisson at

12/10/13 5:27 PM

From GABRIEL at

12/9/13 5:57 AM

From Wilfried from Germany at

12/8/13 4:02 AM

From Robert at

12/8/13 1:13 AM

Is there a user manual for this phone that I can download?

Also, when I connect the phone to my PC it tries, and fails, to find and install an MT65xx Android Phone driver. Can you recommend a safe website to download the driver from please?

Thanks.
Thl mobile :
Thank you for your mail .
We will email you when the electronic manual be released by factory .
Please choose Setting ==>> USB debugging (do not choose)

From Fabian at

12/4/13 5:25 PM

hello world, I wanted to know if the THL W100S comes only in black color, thanks
Thl mobile :
Thank you for your mail .
For thl w100s white version ,please check here (http://www.thlmobilestore.com/thl-w100s-android-4-2-mtk6582m-1-3ghz-quad-core-smartphone-4-5-inch-ips-screen-white.html)

From Jef at

12/3/13 3:26 AM

From João Gomes at

12/3/13 3:14 AM

This mobile support 32 GB Microsd ? or only 16 GB ?

I ask because in many sites say 32 GB and anothers say 16 GB is maximum...

And some users say the 32 GB microsd work in mobile.
Thl mobile :
Thank you for your mail .
It supports TF card up to 16GB extended
Ask Your Own Question
Customer Reviews
Phone is working great, but the internal storage isn't enough Review by

Gal

I have the phone for several months now and it is very good. The only problem is that the internal storage ran out very fast, and although most of my apps are on the SD card I can't install or update any apps now for three months. Is there any way to fix this? (Posted on 1/24/15)

thl smartphone for cheap Review by

Nick

I'm really happy with it. The great experience and the the low cost make it the best phone, the only issue is the camera so don't expect sharp quality images. Overall, I am very satisfied with this thl w100s. (Posted on 5/8/14)

THL mobile smartphones for cheap Review by

Davis

I can't believe how much better this phone is compared to my old phone, easy to use, tons of features, slim, great camera, nice battery life. I have already feel in love with my THL W100S the apps speed camera are great. THL mobile smartphones for cheap, I will never opt for a free phone with my phone plan again. (Posted on 4/12/14)

All I can say is that THL W100S is a great phone Review by

Bill

All I can say is that it is a great phone, not perfect , It is the Swiss army knives of smart phones where you can check e-mail, surf the web, get turn by turn directions, listen to virtually any radio station on the planet, take photos and videos where ever you go, remotely control your TV, and even make phone calls. (Posted on 3/21/14)

Good phone, but not perfect Review by

John

The THL W100S is a good and fast phone. The only two weaknesses I found are
a) the lack of USB host (OTG)
b) the screen refresh rate is about 46.5 Hz. Standard should be 60 Hz. This can lead to problems with a few games that use the refresh rate for timing. (Posted on 3/11/14)

I'm happy and satisfied Review by

Allen

My phone is awesome and i'm happy and satisfied. It does everything i want. It a good phone. Its easy to carry. Great features, ringtones and more. I would totally recommend this phone to everybody. Its fast looks nice and payments with Mobile are not expensive. (Posted on 2/20/14)

I really love my phone Review by

Brooke

Their customer service is awesome. I received my phone super fast. Works fast, battery works for a full day and the Phone looks well. Good Phone for a nice price! Using it for more than a month now and still no problems! (Posted on 2/14/14)

Great and feels good Review by

Harry

My first impression of the Phone is great. It runs smooth and it feels very solid. When the quality is as great as the Phone feels, its the best buy you can get. (Posted on 2/9/14)

Good Phone Review by

JAckson

I was very pleased with this phone when I got it, it was of decent quality for the price tag. (Posted on 1/28/14)

Great Review by

Alkemist

Everything about the phone is really great, really worth of a buying, only ... Pictures taken at night isn't good. (Posted on 1/26/14)

who needs an iphone!!! Review by

wkt

I bought this phone from here before I stumble onto this site. Before installing applications, battery was superb. The battery level only reducing by 1 or 2 percent overnight.
After login to gmail account and installed viber and linphone via google play, the battery level suddenly dropped very fast.
The next thing I done was to reset the phone but keep the downloaded apps.
Do not login to gmail account afterward. Disable google play, disable google framework etc that will sucks battery life even you are not using the phone.

Next install your apps. This time, battery life is same as initial. Go to settling, and check running apps to see which is active and disable those not really required for the phone to operate and you will have a long lasting battery.

I rated this phone 5 stars for its smooth operation, handsome design and long lasting battery. Only required phone to make call. Voip setup is simple and cheap. Have been talking to wife who is oversea at this time free of charge via wifi.
I experiment by disabling wifi and activated 3G. When the viber and linphone is on line, daily usage on standby is about 1.5 to 2 MB. Do not put SKYPE on standby as it sucks data. Data usage on viber and linphone is about 0.5mb per minute of call.

Who needs an iphone or a samsung ?

(Posted on 1/23/14)

it deserves the price Review by

Alexandros

Very good and well balanced phone. Fast enough with good handle. It deserves the price. (Posted on 1/17/14)

phone better than I expected Review by

Carl

Just the right screen size/size of THL W100S phone. Very responsive with apps. The camera is far better than I expected and some of the photos taken are as good as those taken with my stand alone camera. The battery life is OK. It lasts me an entire day even with moderate use. I compared the same configuration of other brand mobile phone, found here the lowest price, and shipped very quickly, I recommend this merchant. (Posted on 1/10/14)

better than on my old phone Review by

Jack

Took about 4 days to receive this phone. It was in the seller package as promised. I keep wifi and bluetooth off and have my apps turn them on when needed and the battery lasts all day with moderate use. There are many free applications. Camera is not tremendous quality, but is better than on my old cheap phone. I would highly recommend them to anyone. (Posted on 1/7/14)

Worth its money Review by

APOSTOLOS

I have W8s and i bought it for my son. It does what it promesed to. Briliant phone! Thanks Thl. (Posted on 1/3/14)

works really well for the price Review by

George

I got my phone yesterday and i am so amazed at how well it works and what all i can do! good call quality, I often play games so I have to charge the battery everyday. THL W100S works really well for the price. (Posted on 12/26/13)

THL W100S is a value smartphone Review by

Brant

At $150 the THL W100S is a pretty great value. The phone is just right sized. It's perfectly sized to operate with one hand. The phone works perfectly fine- as long as you're not trying to run too many apps the performance is good. All in all a really great middle-of-the-road value smartphone. (Posted on 12/19/13)

THL W100S is a good phone for the cheap price Review by

Jack

I have had this phone almost a month now. The call quality is good and I have faster speed internet. The only problem that I had is the internal memory. Which I helped by getting a high memory sim card and was able to download way more games. It also helps if you don't get the updates. The good phone for the cheap price. (Posted on 12/12/13)

I am so happy with THL W100S SmartPhone Review by

Edmund

I am so happy with this phone. The battery isnt so bad or the best but it last me like 10 hours with light use of course if you on you tube or listening to music or on the web the battery is going to drained faster. the camera is decent with flash, can meet the requirements of I take photos. Storage capacity is not big, but I bought a SD card to solve this problem. I'm absolutely amazed at it, especially considering the price. I really like this phone and recommend it to you. (Posted on 12/9/13)

THL W100S is a affordable end smart phone Review by

Glendon

Absolutely love this phone its just enough for everything that I need. Social networking, email, android marketplace, easy touch screen keyboard, accessibility, good looking phone for being a more affordable end smart phone, responsive ect. Its worth the price. I enjoy it and it was prompt on getting here! love this product and would recommend to a friend. (Posted on 12/2/13)

My son is very pleased Review by

Joyce

I read a lot of reviews before purchasing a new phone. I am happy that I bought this one, This is a very stylish cell phone. My son is very pleased, who wants a great phone cheap get this one. (Posted on 11/26/13)

I like even more Review by

Sidney

I like even more. Some if the things I love about this model: the flash on the camera, the option to record video that can be sent in a text message or email, the ability to take and send screen shots, the larger screen, better speaker for listening to music, videos etc. The only downside is that memory is not great, but I bought a TF card solves this problem. (Posted on 11/25/13)

Very happy with it Review by

Stephen

The shipping, and price were all wonderful, I got these for the kids as a cheap substitute for the ipod touch they wanted. These are better and cheaper. I also have this phone as a phone for myself. Very happy with it. (Posted on 11/23/13)

it's very user friendly Review by

Garfield

I love this phone...It does everything and more. It's comfortable, all features work well, it's very user friendly. (Posted on 11/21/13)

He loves it! Review by

Mia

I bought this phone for my dad. He loves it! My dad has been 70 years old, but he used only two days to learned to use this phone. (Posted on 11/18/13)

cheap feel Review by

Austin

This phone has a cheap feel compared to my old iphone, But I see the phone is very good in all aspects, I decided to buy one. (Posted on 11/15/13)

good Review by

Gino

Bought the phone for my wife and she loves it. Only complaint is the speaker sounds cheap and it's not 4G. There are have only one 4G phone, but did not in stock. (Posted on 11/13/13)