Details
Good News: THL T100S Support Free Shipping, and We will send Flip Cover and Screen Protector as a gift.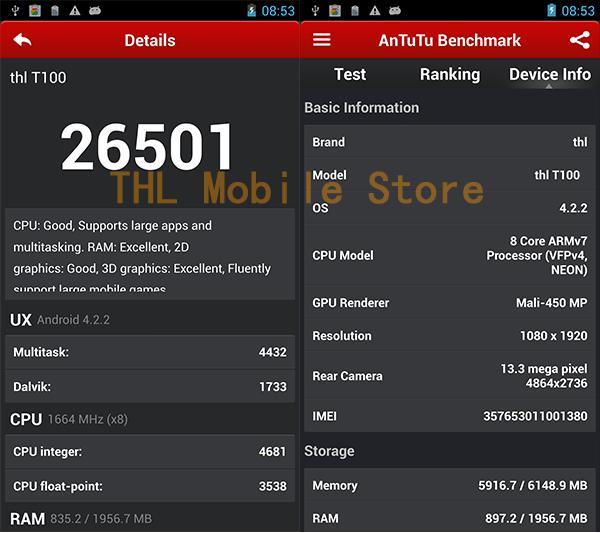 THL T200 Smartphone use MTK6592W, Cortex-A7 Octa core,1.7GHz, 2G RAM + 32G ROM with 6 inch 1920 x 1080 screen, Android 4.2 OS, promises quite a fast operation speed is quite amazing and impressive. 8.0MP front camera for convenient self-capturing, 13.0MP back camera for you to record every single moment clearly; 3G, GPS, WiFi, WiFi direct, hotspot, etc all available to make this phone the most valuable choice.
| | |
| --- | --- |
| F2.0 large aperture and a five-piece high-precision glass filters, significantly enhance the amount of light entering the lens by 50%, the overall picture quality than previous products increased by 30% with the top-level configuration allows you to precisely focusing. | |
| | 6.0 inches large screen, vision becomes broader; 1920x1080 Full HD screen resolution, large field of vision in bringing on the basis of clearly found large and different exciting vision. Equipped with the third generation of Corning Gorilla Glass, drop resistance with superior scratch performance. |
| THL T200 equipped with the latest operating system, redesigned more than 300 commonly used icons, adding more humane business functions, such as security center, intelligent notification management, meeting memos, work more convenient and more efficient want to have a multi-efficient. | |
| | Synchronized fashion, NFC near field communication technology, most IN Hall IC, gyroscope, OTG, such as fever holster windows feature set in one, perfect fit your application needs deeper inner life more satisfaction, work more easy; while large-polymer battery with 2500mAh, 321 hours long standby time for the dual-network life lasting life. |
| In order to bring more comfortable, the grip of extraordinary experience, at the appearance, texture, border line, back button layout etc. Each can touch place, we have devoted efforts, design. Aesthetic appearance design of the atmosphere, seiko quality, just to highlight your unique temperament. | |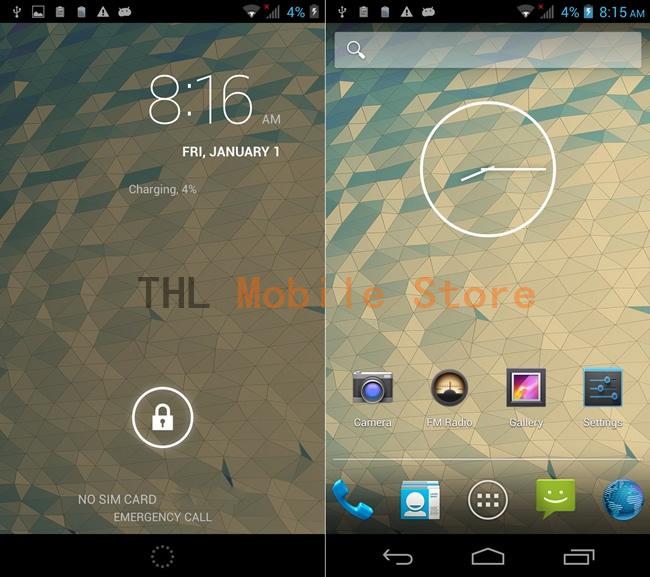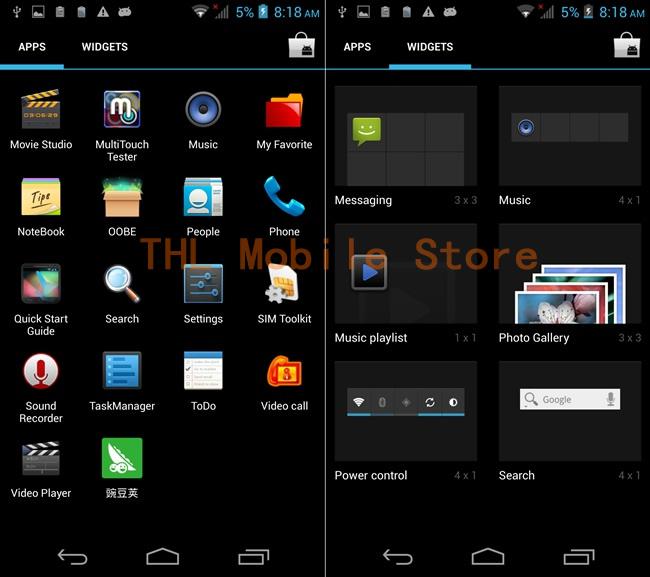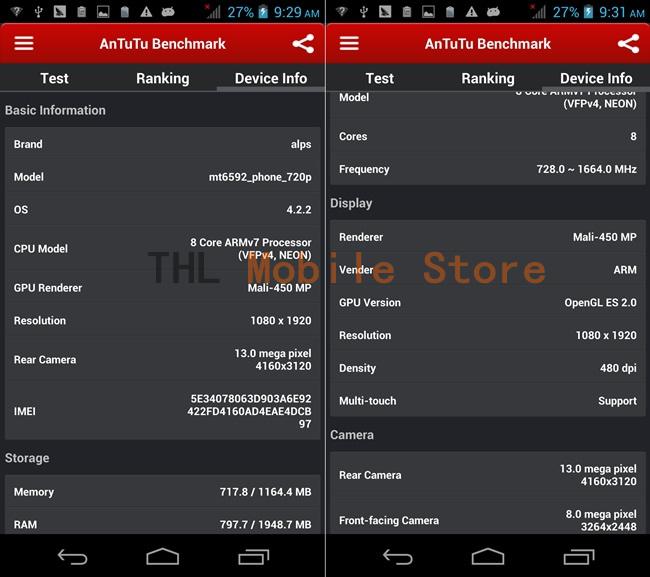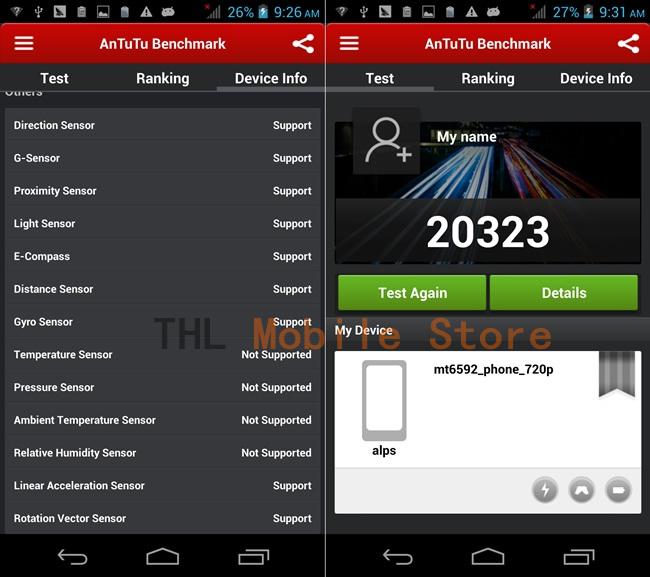 THL T200 Smartphone Highlight:
- 6 inch Corning Gorilla Glass 3, 1920 x 1080 pixel display
- Support 3G network: GSM 850/900/1800/1900MHz WCDMA 850/2100MHz
- MTK6592W, Cortex-A7 Octa core,1.7GHz
- 13MP back camera + 8MP front camera
- 2GB RAM + 32GB ROM
- Android 4.2

THL T200 Smartphone Basic Parameter Information
Model: THL T200
Band: 2G: GSM 850/900/1800/1900MHz
         3G: WCDMA 850/2100MHz
THL T200 Smartphone is unlocked for worldwide use, make sure your local area network is compatible with this phone, you can click here( http://maps.mobileworldlive.com/ ) to see the frequency for your country, please confirm these frequencies with your network operator or providers before buying this phone.
Sim Card: Dual SIM Card Dual Standby(one micro-sim card)
OS: Android 4.2
CPU: MTK6592W, Cortex-A7 Octa core, 1.7GHz
GPU: Mali-450
ROM: 32GB
RAM: 2GB
Service Provide: Unlocked
Display Size: 6 Inch
Type: Corning Gorilla Glass 3
Resolution: 1920 x 1080 pixels, 441 PPI
Screen Color: 16000K Colors
Camera/Picture Resolution: Dual Cameras, front camera 8.0MP Sony IMX111, back camera 13.0MP with flashlight Sony IMX135 and auto focus, support 1080P video record

THL T200 Smartphone Basic Function
Audio File Format: MP3/WAV/AMR/AWB
Video File Format: 3GP/MPEG4
Image File Format: JPEG/BMP/GIF/PNG/GIF
E-book Format: TXT/CHM/DOC/HTML
FM Radio: Yes, earphone needed
Input: Handwrite/Keypad
WIFI: Yes, 802.11 b/g/n
Bluetooth: Bluetooth 4.0
Gravity Sensor: Yes
Multi-Touch: Yes, 5 point touch
Ringtones Type: Polyphonic/MP3
Earphone Port: 3.5mm
Data transfer: USB/Bluetooth
Mobile internet: WAP/WIFI
Phonebook: 1000
Message: SMS/MMS
GPS: Yes, built in, also support A-GPS With EPO assistance to speed up postioning
Language: English, Bahasa Indonesia, Bahasa Melayu, Catala, Cestina, Dansk, Deutsch, Espanol, Filipino, French, Hrvatski, Zulu, Italiano, Kiswahili, Latviesu, Lietuviu, Magyar, Nederlands, Norsk, Polish, Portuguese, Romana, Rumantsch, Slovencina, Suomi, Svenska, Vietnamese, Turkish, Greek, Bulgarian, Russian, Serbian, Ukrainian, Hebrew, Arabic, Persian, Hindi, Thai, Korean, Japanese, Simplified/Traditional Chinese
Other Feature: NFC, OTG, 3G, WIFI, GPS, FM, Bluetooth, Ebook, Email, Play Store,Messaging, wallpapers, calendar, calculator, clock,camera, tethering & portable hotspot, etc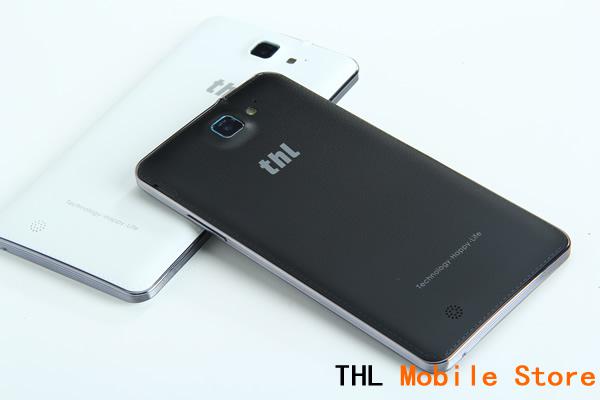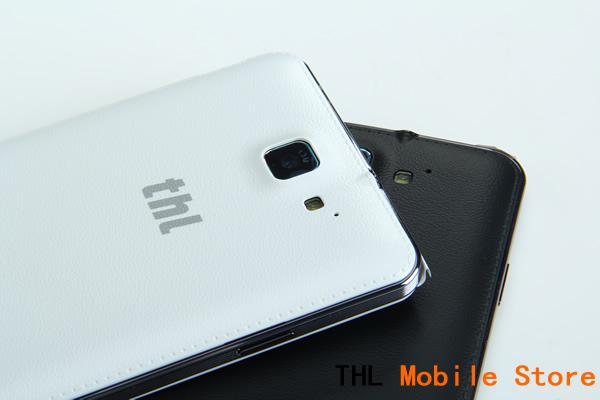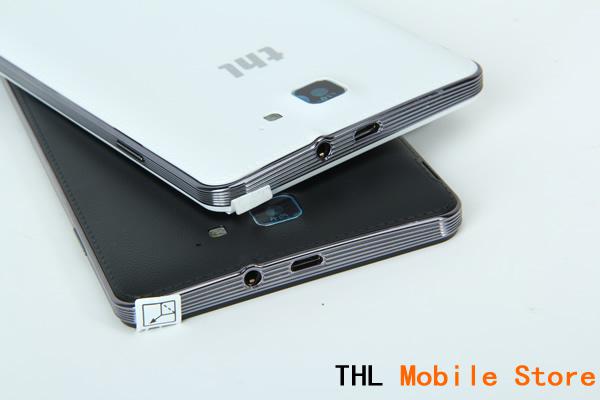 THL T200 Accessories:
1 x 2500mAh Battery
1 x 3.5mm Earphone
1 x USB Cable
1 x Charger
1 x Screen Protector
1 x English User Manual

THL T200 phone Size: 160.8*84*9.0mm
THL T200 phone Weight: 185g
Note: Please remove the Plastic Strips on the battery before using!
You may also be interested in the following product(s)
Questions on THL T200 MTK6592W Octa Core SmartPhone 2GB 32GB 6 inch Corning Gorilla Glass3
Sort by

From johnwan3980 at

10/29/14 6:16 AM

From GEORGE at

10/22/14 7:10 AM

From Gary at

10/20/14 1:50 AM

From Gary at

10/19/14 1:54 AM

Hi I bought my last phone from you (THL W8) and have been very happy with this phone. But I am looking to upgrade. I like the look of this phone and would buy it if I could get a flip cover with the phone, Do you have a flip cover for the phone. Thanks Gary
THL Mobile
Thank you for your mail.
THL W8 Flip Cover Black: http://www.thlmobilestore.com/thl-w8-w8-flip-cover-black.html

From Stefano at

10/16/14 11:56 PM

From Roberto at

10/2/14 3:07 AM

From adrian agapay at

9/24/14 6:39 AM

From Stefano at

9/22/14 2:40 PM

Hi,
I saw that you have available the update to Android 4.4 for the T100S. We do not know anything yet to upgrade the T200 to Android 4.4?

Thanks in advance
THL Mobile
Thank you for your mail.
When we got the THL T200 Android 4.4 latest firmware, we will update on our website.

From Michael at

9/20/14 12:35 AM

I have a T200. The device fell, the screen cracked in several places. The device still works. I bought a gorilla screen. I wish to receive a new screen. Is there a warranty?
Thanks for a quick reply.
THL Mobile
Thank you for your mail.
If it is man-made damage, does not have a warranty.

From W_Wiz at

9/14/14 1:16 PM

HI!
I'm very interested in this phone. I'd like to know:
1) Is it Dual Active phone(two radio modules)? Is it supports two calls at the same time?
2) If NOT, do you have a model [Dual SIM Card] that supports - Dual Standby-Dual Active?
THL Mobile
Thank you for your mail.
THL T200 phone does not support Dual Active,
All THL phone does not have dual active.

From Osvaldus at

9/4/14 2:55 PM

From Iulian at

9/4/14 10:58 AM

From Jan at

8/26/14 12:53 AM

hello world,

I am looking for my new mobile phone and interesting for your products. I have some questions.

1) HAs T200 Reitna display?
2) How big is internal storage for app.? I have Samsung Galaxy SII and from 16 GB memory, it has only 2 GB for system and app.
3) Is possible to get 2 Year warrancy?

Thank you.


Jan
THL Mobile
Thank you for your mail.
THL T200 phone does not have Reitna display,
THL T200 phone has 2GB RAM,
You can choose to extend the one-year warranty.

From Colonine at

8/25/14 9:44 AM

From raffo000 at

8/18/14 5:57 AM

From kgamer at

8/16/14 12:22 PM

From Youssef at

8/14/14 3:57 AM

Hi How much does cost the shipping to italy? And what are the available shipping methods to Italy ( DHL, Express....)? Is there any refund if I should pay Extra taxes?
THL Mobile
Thank you for your mail.
The shipping cost to Italy is 11.0USD by Airmail,
We are not sure about your local customs, but we can help you reduce and avoid import taxes by declaring prices low, declaring the contents as "electronic accessories" or other items and shipping in simple packaging.

From Kleopatra at

8/10/14 1:07 PM

hello world!

1.) How much is the shipping to Germany?
2.) And in case the customs do not believe, the value of the package is under 50EUR (By the way: What does FOB-price mean?): How much money do I have to expect as extra (tax) fee?
3.) Is there a way for me of getting this fee-money refunded?

Thank you for your reply!
THL Mobile
Thank you for your mail.
The shipping cost to Germany is 11.0USD by Airmail,
We will print your package value under 50USD, but we are not sure about your local customs.

From Stefan at

7/22/14 6:01 AM

From Deni at

7/10/14 12:42 AM

From st. at

7/8/14 10:29 AM

From Bata at

7/6/14 12:42 AM

From Rey Valdez at

7/2/14 4:16 AM

"Our factory is testing the latest Android 4.4 firmware , if any news ,we will submit it on our website soon ." You said this almost a week now. Are you sure that they are testing this or is this only a hunch?

If you didn't reply to this, I may not support your store anymore. thank you.
THL Mobile
Thank you for your mail.
We have consulting THL company, but there has been no reply to us, Android 4.4 is now the most popular operating systems, THL should advance with the times, THL mobile phone will be welcomed by people, So we think THL factory is testing the latest Android 4.4 firmware, but so far no results.

From Apollo at

6/30/14 7:55 PM

Hi,
interested in the THL T200 and had a few questions.
I see on the web there are 2 version : a 16Gb and a 32GB: are they exactly the same? Do you stock it both?

I wanted to buy one (or two) from the UK: how long would it take via DHL and would I need to pay an extra custom fee?

Many thanks.
THL Mobile
Thank you for your mail.
16GB version has been discontinued, 32GB version in stock,
The 2 unit shipping cost to UK is 26.74USD by DHL,
Our price is FOB price,we will print your package value under 50USD, but we are not sure about your local customs.

From Aytow at

6/29/14 1:36 PM

From Washington Grimas at

6/26/14 7:49 AM

From João Carlos at

6/26/14 6:56 PM

From Michael L at

6/23/14 10:41 AM

Is there any release date for 4.4 Kitkat, because more and more Apps won´t work with 4.2.2 ....So please update this fantastic phone and please don´t let it die, because it is so much better than Samsung and IPhone.

best regards
Michael
Thl Mobile :
Thank you for your mail.
Our factory is testing the latest Android 4.4 firmware , if any news ,we will submit it on our website soon .

From punith at

6/14/14 6:21 PM

How much cost in india....whn we l get....any service centre in karnataka
Thl Mobile :
Thank you for your mail .
The shipping cost to India is $11.6 via Singapore with the tracking number 15-25 working days around to arrive at you .
I regret that we have no dealer or re-seller in karnataka .You can purchase this directly from our online shop.

From jessyseeje at

6/11/14 2:45 PM

Does this phone have a CE certificate? Because if it wouldn't, the phone would be stopped at customs and I will never get it and I lose a lot of money being a mere student. Could you prove me the CE Certificate if it has one please???
THL Mobile
Thank you for your mail.
THL T200 phone has CE certificate.

From DianaDeAngelis at

6/9/14 11:34 AM

ciao , non riesco ad aggiornare il mio thl t200 a kitkat 4.4 . ho visto che sul vostro sito c'è la rispettiva spiegazione insieme a quella del t100 , ho fatto tutti i passaggi e veramente non riesco a capire come aggiornarlo . mi potete aiutare , per favore ?
THL Mobile
Thank you for your mail.
I'm sorry, we also don't have THL T200 Android 4.4 KitKat firmware, when we got the latest firmware update, we will release on our website.

From ZVNBG at

6/8/14 2:58 PM

Hi,
I would like to know what are shipping cost and delivery time to Serbia, and do you have black Cover Case for THL T200?
Thanks.
THL Mobile
Thank you for your mail.
The shipping cost to Serbia is $11.60 via Singapore post with the tracking number 15-25 working days around to arrive at you,
I will delivery a plastic case.

From Nayeem at

6/8/14 12:46 PM

Hi,
I want to buy these mobile
Do you ships to india
What are the shipping charges
How many days it will take for shipping to india
THL Mobile
Thank you for your mail.
The shipping cost to India is $11.60 via Singapore post with the tracking number 15-25 working days around to arrive at you.

From Santi at

6/7/14 5:28 AM

May i know your store location here in the Philippines so that i can go there personally to buy Thank's
THL Mobile
Thank you for your mail.
I regret that we have no dealer or re-seller in Philippines, but we support worldwide shipping ,you can purchase this directly from our online shop.

From Chris at

6/4/14 2:58 PM

From Marco at

6/4/14 2:35 PM

From Dimitris at

6/1/14 1:38 PM

hello world
I want to ask you how much it will cost if i order t200 the shipping to GREECE and how much time it will take to come!


p.m You have awesome products and prices guys! EXCELENT company
THL Mobile
Thank you for your mail.
The shipping cost to Greece is 21.19USD, you will got your package in 3-5 business days around by DHL.

From Dimitris at

6/1/14 11:49 AM

hello world
First of all i want to ask you how much it will cost the shipping to GREECE and how much time it will take to come,because i want to order t200....

p.m : You have a great phones in great prices guys! EXCELENT company.

THL Mobile
Thank you for your mail.
The shipping cost to Greece is 21.19USD, you will got your package in 3-5 business days around by DHL.

From Sascha at

6/1/14 11:26 AM

hello world,

I´m going to order two T200 but I´m not able to get the 5% discount by the Facebook recommending. There is allways an error. What can I do?

And can you please write an total value of 25$ in the shipping documents?
THL Mobile
Thank you for your mail.
We will print your package value under 25USD.

From Judith Martyn at

5/18/14 12:45 AM

I am very disappointed with the battery life of my phone. If I am browsing the internet it only lasts a couple of hours. How can I extend the life of the battery or is a more powerful one available? Thank you
Thl Mobile :
Thank you for your mail .
We will email you at the first time when the bigger capacity battery be released by factory .

From Marcel at

5/11/14 5:06 PM

From sergio at

5/10/14 3:41 AM

From K Raj at

5/10/14 3:14 AM

Does ur phone (THL T200) works in india? What is price in INR? Is it upgrade able to Kitkat? Is it available in any Indian online store? does it supports MS Office/Excel/Word & PDF. Pls reply.
THL Mobile
Thank you for your mail.
THL T200 phone can work in India, it's price 17984.40INR, it cannot be upgraded to Android 4.4 now, we support worldwide shipping ,you can purchase this directly from our online shop, it supports MS Office/Excel/Word & PDF.

From Guillermo at

5/9/14 5:41 PM

From henry at

5/8/14 10:01 AM

From Mark at

5/8/14 5:16 AM

What warranty is provided with the T200? Could you give details? For instance if the touch screen became faulty what would be the warranty etc.

Many thanks
Mark.
THL Mobile
Thank you for your mail.
All our product are under one year warranty. (Excluding the accessories).
If any problems ,please contact our after-sale customers service any time .

From Umut at

5/8/14 12:57 AM

Merhaba ben t200 telefon almak istiyorum
Türkiye kargo ücreti ve telefon , telefon kılıfı ve 16 gb hafıza kartı ne kadar tutar. Ve bana kaç günde kargo gelir. Türkiye kaç günde gelir.
THL Mobile
Thank you for your mail.
The shipping cost to Turkey is 11.60USD, you will got your package in 3-5 business days around by Express.

From hoque at

5/2/14 12:25 PM

From Kerwin at

5/2/14 11:21 PM

I live in the UK and have just ordered the THL T200 with normal shipping, just curious as to how long it takes to arrive in the UK and does anyone here from the UK who has purchased one can let me know
It's a great phone with loads of features for the price and I can't wait to receive mine
Thl Mobile :
Thank you for your mail .
Courier delivery (UPS, EMS, DHL) takes 3-7 business days depending on your destination. And Register Air Mail takes 15-25 business days .

From franklin at

4/30/14 8:49 PM

From Joey Albert at

4/21/14 3:13 AM

hi!

does it have free shipping to Philippines? how does it work?

i would just like to clarify regarding the battery size in mAh. i believe the t100s got a 2750mah battery but this one only have 2500mah?

i hope its equal to or more than the t100s battery size because the larger screen definitely will drain the battery faster.

im weighing between this and the t100s. thank you!
THL Mobile
Thank you for your mail.
Yes, THL T200 phone support free shipping to Philippines, THL T200 mobile phone original battery is 2500mAh.

From Thank u for ur phone at

4/15/14 11:34 AM

1. When approximately will be available Kitkat (android 4.4) in this month, season, year?
2. Is there an Oleophobic coating?

Thank you.
Thl Mobile :
Thank you for your mail .
Our factory is testing the latest firmware ,don't worry ,we will submit it on our website soon .

From tassos nikolopoulos at

4/14/14 11:36 AM

From Jennifer at

4/11/14 6:08 PM

From k atu at

4/8/14 10:07 PM

From Gw at

3/31/14 6:22 AM

From aiwa at

3/30/14 2:57 AM

From Emmanouil at

3/30/14 1:22 AM

I 'm 1 (maybe 2) steps to buy this phone
The last question i have, is, If it support the call recording programs.
I want to know, if it can record the speaker and the mic during a call.
I allready own 3 Android phones and all of them, can record only the microphone. I can not record the speaker.
I want to record some conversations and must know if itsupport this feature.

Also, does the camera is "touch to focus" or a simple centered focus?

Please respond.

Thank you for your time.
THL Mobile
Thank you for your mail.
THL T200 not support the call recording.

From Manolis G. at

3/27/14 5:35 PM

I search for the SAR specification, but find none. Another customer ask for this info and you answer that you will submit that info in your site. I can not find that info anywhere in the phone specs. Please inform me about the SAR of the phone.
Also I want to know, if you plan to release a phone with the nVidia K1 (Tegra 5) SOC.
That would be really awesome.
Thank you in advance.
Thl Mobile:
Thank you for your mail.
THL T200 SAR is 0.645w/kg.

From Ulysses at

3/21/14 11:42 PM
Ask Your Own Question
Customer Reviews
Ottimo Review by

Giovanni

Ottimo telefono, schermo di qualità, si vede benissimo anche a bassa luminosità, l'octa core si nota subito all'accensione che è velocissima come lo spegnimento e anche per i giochi, veramente veloce, con l'opzione di limitare l'uso dei core se non servono si risparmia parecchia batteria che se ricaricata bene dura tutto il giorno senza problemi anche con uso intensivo di internet (io non spengo mai il modem), wifi o gps, costruzione e materiali ottimi, robusto ma non molto pesante anche se è un sei pollici, che dire di più, compratelo con sicurezza, ottimo e fatto molto bene. (Posted on 6/21/14)

THL T200 the best kept secret out there Review by

Kerwin

my friends always think that my phone is a Galaxy note and cannot believe the breathtaking and stunning screen when I show HD movies or pictures on it. but hey don't just take my word for it, look around and I challenge you to find something as good or better than this phone for the same price good luck I have and never did.

don't wait just buy it and be glad you did like the rest of us. (Posted on 6/9/14)

B&B Review by

aLinucs

Big and Best phone I ever had!!! (Posted on 6/8/14)

Absolutely awesome! Review by

Menandro

First, THL's service is truly satisfying! Had no issues ordering and delivery arrived on time. Upon using the phone, its performance was excellent! All my apps and games ran smoothly and lag free. The screen is absolutely clear. Colors are rich and blacks are deep. Physically, the phone has very solid and premium feel---has a very elegant and executive look. Love this phone! :) (Posted on 5/22/14)

T200 Review by

Umut

Merhaba ben t200 telefon almak istiyorum
Türkiye kargo ücreti ve telefon , telefon kılıfı ve 16 gb hafıza kartı ne kadar tutar. Ve bana kaç günde kargo gelir. Wifi çekim kaç metreye kadar çekiyor. (Posted on 5/7/14)

Very good octa core thl mobile phone Review by

Bill

All my calls have been clear and loud. I was afraid it would be flimsy with the plastic cover, but it is very solid. PLUS, a phone with a removable battery and SD card. Very good octa core thl mobile phone. (Posted on 4/27/14)

Very satisfied THL phone Review by

Elliot

I've had this phone for about 2 months now, and I've never been more satisfied. There are many new features that I love especially:
- When I pick the phone up from my desk, the phone will vibrate slightly to indicate I have a missed call or a message to look at.
- The screen is just amazing, and so as the camera

And that just to name a few. (Posted on 4/22/14)

amazed everything use this thl octa core phones Review by

Burt

I am amazed everything use this thl octa core phones, the screen and the fantastic way to works. I have had every type of phone and by far this exceeds them all. (Posted on 4/8/14)

THL T200 is a great phone Review by

Angus

This is a great phone even though it takes some getting used to the size. It performs very well and has decent battery life. It has taken me about 6 weeks to use and feel comfortable using most of the functions though I need to remind myself to go to settings! A great bargain with prompt efficient service. (Posted on 3/27/14)

THL T200 ROOT Review by

Burt

I really love this THL T200. The screen is the perfect size for me and running at 1080p it looks great. The hardware is powerful enough to blow through games and make general phone use (even when heavily multitasking) very snappy. Battery life isn't anything to write home about, but it's not bad either; I easily get a full day even with heavy use and can get almost 2 days of lighter use. Overall I would definitely recommend this phone to anyone looking for a great Android phone, especially if you're going to root. (Posted on 3/25/14)

Perfect phone Review by

Michal

Excellent phone

Advantages:

OTG works out of the box
GPS the best seen in this type of phone
very fast 27000 in Antutu

Disadvantages:
ordered 03/10/2014
delivered 03/20/2014
long delivery
expensive DHL
2500 battery despite 36 hours at best normal usage.

Other:

A very good phone that just works
(Posted on 3/24/14)

Just like wow man... Review by

Harold

This bested cellular I have ever been had, the screen feel like 3d, it give me headache, look at its colors long time!
Batery last too long too, have not charged it since new, had 6 days now and love it, Bested receptoin too, climbed big mountain in hometown of Norwich and streemed utube for long time with no problems.
Like soo much will get white one for husband! (Posted on 3/21/14)

Great gift Review by

Lisa

Plan ready. Great gift and idea. so clear. big screen. gave hubby as birthday gift. HE LOVED IT! easy to use. great price! Later I had bought a white phone. (Posted on 3/10/14)

My husband love his new phone Review by

Kate

My husband is very pleased! He's like a kid with a new toy. It's fast, easy to use, large screen and many options. Very smooth slim back. Down loading is easy and the security is great! (Posted on 2/20/14)

I will buy it again Review by

Tom

The large screen display is an added bonus for viewing the terrific photos it takes. It's camera quality is unmatched. It is very fast and efficient. Haven't had a problem with it at all. The price is very affordable, I will buy it again. (Posted on 2/14/14)

THL T200 is a perfect phone Review by

Fred

This is by far the best phone i've ever had. Processor is fast. Everything is so fast! phone has quite a bit of flexibility and as time goes on learn to fine tune it for your own style. will recommend it. (Posted on 1/17/14)