Details
Good News: THL T100S Support Free Shipping, and We will send Flip Cover and Screen Protector as a gift.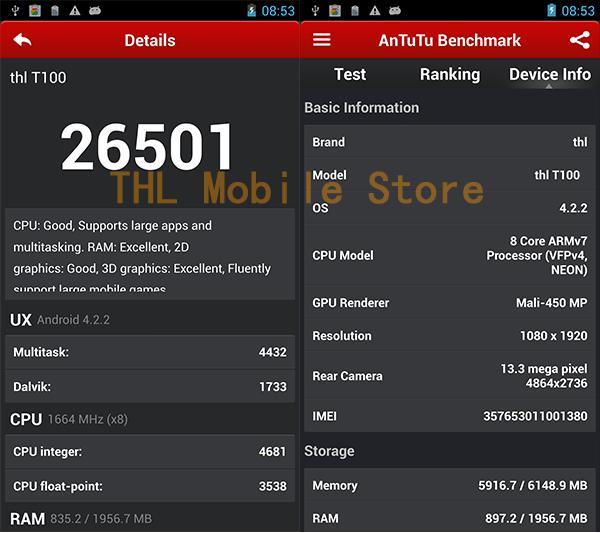 THL W200S Smartphone use MTK6592W, Cortex-A7 Octa core,1.7GHz, 1G RAM + 32G ROM with 5 inch 1280*720 screen, Android 4.2 OS, promises quite a fast operation speed is quite amazing and impressive. 5.0MP front camera for convenient self-capturing, 8.0MP back camera for you to record every single moment clearly; 3G, GPS, WiFi, WiFi direct, hotspot, etc all available to make this phone the most valuable choice.
Slimmer yet brighter 5 inch



THL W200S equipped with a high quality 5 inch Corning Gorilla Glass 3 screen and make the screen brighter, more vivid and more nature even under the sun, providing great view experience for its users.



Octa core 1.7GHz CPU



MTK6592W, Cortex-A7 Octa core, 1.7GHz CPU, download speed up to HSPA+ 21Mbps. Thanks to the 28nm processor, you'll enjoy videos and gaming at their best.

8.0MP BSI back camera



Capturing the little things in life just got easier with the THL W200S's 8-Megapixel camera. You can even get up close and personal shooting. You will never miss a moment, no matter how small.

1GB RAM + 32GB ROM

THL W200S Smartphone will only work with GSM + WCDMA network
(2)Compatible 3G networks: WCDMA 850/2100MHz
(3)Compatible 2G networks: GSM850/GSM900/DCS1800/PCS1900
THL W200S Smartphone is unlocked for worldwide use, make sure your local area network is compatible with this phone, you can click here( http://maps.mobileworldlive.com/ ) to see the frequency for your country, please confirm these frequencies with your network operator or providers before buying this phone.

THL W200S Smartphone Highlight:
- 5 inch IPS screen, 1280*720 pixel display
- Support 3G network: GSM850/GSM900/DCS1800/PCS1900 WCDMA 850/2100MHz
- MTK6592, Cortex-A7 Octa core,1.7GHz
- 8MP back camera + 5MP front camera
- 1GB RAM + 32GB ROM
- Android 4.2

THL W200S Smartphone Basic Parameter Information
Model: THL W200S
Band: 2G: GSM850/GSM900/DCS1800/PCS1900
         3G: WCDMA 850/2100MHz
Sim Card: Dual SIM Card Dual Standby(one micro-sim card)
Service Provide: Unlocked
OS: Android 4.2
CPU: MTK6592W, Cortex-A7 Octa core, 1.7GHz
GPU: Mali-450
ROM: 32GB
RAM: 1GB
Display Size: 5 Inch
Type: Corning Gorilla Glass 3
Resolution: 1280*720 pixels, 294 PPI
Screen Color: 16000K Colors
Card Extend: Support TF card up to 32GB extended
GPRS/EDGE/HSDPA-7.2MbpS/HSUPA-5.76/Mbps/hsdpa+21Mbps/ hsupa+11.6Mbps
Camera/Picture Resolution: Dual Cameras, front camera 5.0MP, back camera 8.0MP with flashlight and auto focus

THL W200S Smartphone Basic Function
Input: Handwrite/Keypad
WIFI: Yes, 802.11 b/g/n
Bluetooth: Bluetooth 4.0
Gravity Sensor: Yes
OTG: Yes
Multi-Touch: Yes, 5 point touch
Ringtones Type: Polyphonic/MP3
Audio File Format: MP3/WAV/AMR/AWB
Video File Format: Support H.265,RMVB,3GP, MPEG-4,AVI
Image File Format: JPEG/BMP/GIF/PNG/GIF
E-book Format: TXT/CHM/DOC/HTML
FM Radio: Yes, earphone needed
Earphone Port: 3.5mm
Data transfer: USB/Bluetooth
Mobile internet: WAP/WIFI
Phonebook: 1000
Message: SMS/MMS
GPS: Yes, built in, also support A-GPS With EPO assistance to speed up postioning
Language: English, Bahasa Indonesia, Bahasa Melayu, Catala, Cestina, Dansk, Deutsch, Espanol, Filipino, French, Hrvatski, Zulu, Italiano, Kiswahili, Latviesu, Lietuviu, Magyar, Nederlands, Norsk, Polish, Portuguese, Romana, Rumantsch, Slovencina, Suomi, Svenska, Vietnamese, Turkish, Greek, Bulgarian, Russian, Serbian, Ukrainian, Hebrew, Arabic, Persian, Hindi, Thai, Korean, Japanese, Simplified/Traditional Chinese
Other Feature: OTG, 3G, AAC Speaker,WIFI, GPS, FM, Bluetooth, Ebook, Email, Play Store,Messaging, wallpapers, calendar, calculator, clock,camera, tethering & portable hotspot, etc

THL W200S Accessories:
1 x 2000mAh Battery
1 x 3.5mm Earphone
1 x USB Cable
1 x Charger
1 x Screen Protector
1 x English User Manual

THL W200S Smartphone Size: 141.5*71*9.3mm
THL W200S Smartphone Weight: 153g
Note: Please remove the Plastic Strips on the battery before using!
You may also be interested in the following product(s)
Questions on THL W200S SmartPhone MTK6592W 1.7GHz Octa Core 1GB 32GB 5 inch HD screen
Sort by

From Dionisis at

8/31/14 6:15 AM

From Mo0N at

8/25/14 8:00 AM

From Dan at

8/8/14 3:17 PM

From Harriet at

8/6/14 9:55 PM

From Olivier at

6/13/14 2:32 AM

From hadar at

6/9/14 3:34 PM

From Ian Jasper at

6/9/14 9:43 PM

From orazio at

6/3/14 11:58 AM

Facebbok application crashes help

THL Mobile
Thank you for your mail.
When you reset your settings, it turns off auto time zone detection. When it is set on, it seems to cause a conflict with the events section of Facebook and causes it to crash! Until this problem can be fixed, make sure you have auto timezone switched off! When turn on 24hrs clock Facebook don't crash, if turn off crash immediately.

From Nikos at

5/23/14 11:15 AM

From Evandro at

5/19/14 4:46 AM

From Philip at

5/16/14 11:32 AM

From Iryna at

5/14/14 3:30 PM

From rohan at

5/9/14 12:34 AM

From Vladan at

5/5/14 1:10 AM

hello world,
what is the shipping cost for Serbia and how long would it take to arrive?
When I purchase the phone, how do I let you know I need European style charger and lower than 50$ invoice statement?
Thank you
THL Mobile
Thank you for your mail.
The shipping cost to Serbia is 11.60USD, you will got your package in 3-5 business days around by Air Mail,
We will send the suitable plug according to your country,
we will print your package value under 50USD, but we are not sure about your local customs.

From Israel at

4/30/14 11:17 PM

From Andres at

4/28/14 7:08 PM

From Nuno at

4/22/14 11:00 AM

hello world, will the w200s receive the android 4.4 kitkat upgrade?
If the answer is yes, do you have any previewed date for it to be avaliable?
Thanks
Thl Mobile :
Thank you for your mail .
Our factory is testing the latest Android 4.4 firmware ,and we will submit it on our webiste soon .

From Istvan at

4/22/14 5:47 AM

Nice Good Afternoon!

The delivery is possible to Malta? If yes how long time and how much?
Thank You!
Thl Mobile
Thank you for your mail.
The shipping cost to Malta is 25.19USD, you will got your package in 3-5 business days around by Express, we support free shipping.

From Amanda at

3/31/14 2:21 PM

Hi,

Is this phone compatible to Australia networks?
If I buy online how long before you ship and send authentic tracking? (I have been scammed twice buying this phone online by others)

Thankyou
Thl Mobile :
Thank you for your mail.
Yes, THL W200S phone compatible to Australia networks, The shipping cost to Australia is $11.60 via Singapore post with the tracking number 15-25 working days around to arrive at you.

From maricirs at

3/31/14 3:21 AM

From Trey at

3/27/14 12:35 AM

From Sergey at

3/10/14 12:23 AM

From marco zotti at

3/4/14 4:05 PM

hello world,
Is there any manual for this phone ?
How can I open the phone by moving the back cover,
as I have it in my hand but I do not understand how
I should open it without damage !
Thanks, Marco
Thl Mobile :
Thank you for your mail .
We will email you at the first time when the manual in English be released by factory .

From USMAN at

3/1/14 11:38 AM

From Villys Vogue at

2/28/14 3:46 AM

hello world from Greece! Please tell me, could you describe the shipping package as "low price" or as a "gift" in order to avoid extra taxes? Thanks in advance, and well done for the great site you have !
Thl Mobile :
Thank you for your mail .
Yes.We can help you reduce and avoid import taxes by declaring prices low, declaring the contents as "electronic accessories" or other items and shipping in simple packaging.


From catalin at

2/26/14 11:48 AM

Can this phone be delivered in other colour than white?i would love to buy one in black or yellow if that's possible.
Thank you.
Thl Mobile :
Thank you for your mail .
For the black THL W200S ,please check here (http://www.thlmobilestore.com/thl-w200s-android-4-2-mtk6592w-octa-core-1-7ghz-smartphone-5-inch-1gb-32gb.html)

From Jack at

2/23/14 9:46 AM

From mohan at

2/23/14 9:19 PM

From James at

2/19/14 4:11 AM

what is 'English Setting For Free'?

Also I want to buy a flip cover for this mobile like the one in the link below
http://www.thlmobilestore.com/thl-w6-flip-cover-black.html

Thl Mobile :
Thank you for your mail .
We can set it as English language before we send .
We will submit the flip cover on our website when it be released by factory .

From Laurent at

2/16/14 6:01 AM

From vagelis at

2/14/14 2:45 AM
Ask Your Own Question
Customer Reviews
Better than most mobile phones Review by

Luis Cleber

I have been using this phone since april/2014 (now it is october/2014) and I am very satisfied with it. Even more, I was using a Motorola Moto X and I gave it to my daughter. It is dual chip. One I use for voice and another has a SIM Nextel Internet. They work perfectly. The screen is very bright and I can read books with it. The sound is good and I hear audiobooks while going to and coming back from my job. The processor is so rapid that it is more than I need.Very reliable and so, recommended. Luis Cleber from Sao Paulo - Brazil (Posted on 10/11/14)

Best for price/performance.. Review by

Motan

Since 3 months I'm using this phone and everything is working really smoothly. I would definitely recommend.. (Posted on 7/12/14)

Great phone Review by

Splinter

I purchased 2 phones 1 for my wife and 1 for me fed up with high priced brand names so took a chance and bought from china do not think it was this site, but only just come across it .
We are both very pleased with phones some real memory to play with so much more than samsung, very fast still learning many features big enough to read like kindle but better.
Would be 5 stars but no manual hope on line soon! (Posted on 6/2/14)

An excellent piece of equipment Review by

Dionysios

It is trully amazing since it has helped me out of many situations where i needed a fast reliable phone for bussines.
I utterly strongly recomend it. What you get is definitely a value for moeny deal.

Congrats THL.

Allthough i cant seem to find anywhere any accessories (e.g covers) for that phone (Posted on 5/1/14)

The whole family in the use of THL mobile phone Review by

Amanda

I buy THL W200S based because my husband and son have the THL mobile phone and are very happy with their phone. Affordable, fast delivery, This phone is a breeze to set up and use. (Posted on 3/16/14)

buy again Review by

Robert

My order was shipped really fast! I love this phone! The THL W200S is a very good Octa Core phone at a very low price. Battery life is good if you disable "locations" and "Google Now" and turn OFF 3g data, wi-fi, gps and bluetooth until you need them. Would happily do business with this seller again .. (Posted on 3/10/14)

very fast shipping Review by

Lewis

excellent condition and very fast shipping to cyprus, I love this phone!
Would happily do business with this seller again .. (Posted on 2/26/14)