Details
Good News: THL Mobile Phone Support Free Shipping, and We will send Flip Cover as a gift.
ThL T100S Iron Man Smartphone use MTK6592W, Cortex-A7 Octa core,1.7GHz, 2G RAM + 32G ROM with 5.0 inch 1920 x 1080 screen, Android 4.2 OS, promises quite a fast operation speed is quite amazing and impressive. 13.0MP front camera for convenient self-capturing, 13.0MP back camera for you to record every single moment clearly; 3G, GPS, WiFi, WiFi direct, hotspot, etc all available to make this phone the most valuable choice.
Dual 13.0MP camera autofocus


THL T100S full HD (1920 x 1080) resolution the definition is great and the color reproduction is true to life but not overly vivid. The brightness is great and often indoors the brightness can be set as low as 10 or 15 percent. With a pixel density of  441 pixels per inch you get a clear, sharp display with crisp text and high detail.



1080P FHD video recording


THL T100S perfect support 1080P FHD video recording function level, larger sensor and high 1300W pixels, you can easily capture a clear picture and vivid detail the wonderful video clips, allowing you to record anywhere bit of life, with a simple and simple phone, easy professional SLR cameras and HD DV only has excellent function.

2GB RAM +32 GB ROM


THL T100S is equipped with 2GB of memory to run +32 ROM, mass storage, easy to run the big game, smooth playback of HD video, easily qualified for multi-tasking. Games, movies, music, and important documents all storage, more storage, more fun.

OTG external equipment function


THL T100S support connecting external devices function, such as U disk, digital camera, digital camera, as long as the plug in OTG cable to connect the external mobile devices, arbitrarily use the files, watching video, listening to music, mobile office.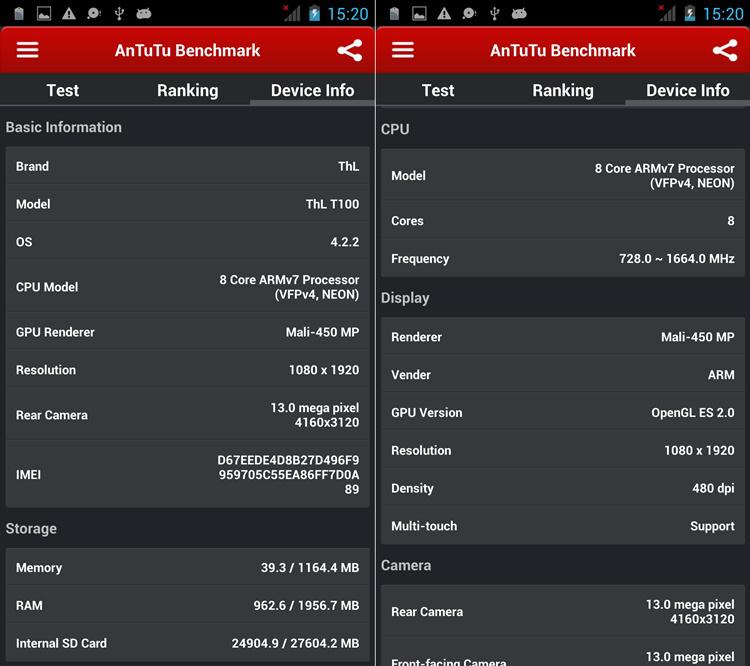 THL T100S Smartphone Highlight:
- 5.0 inch Corning Gorilla Glass3, 1920 x 1080 pixel display
- Support 3G network: GSM 850/900/1800/1900MHz WCDMA 850/1900/2100MHz
- MTK6592W, Cortex-A7 Octa core,1.7GHz
- 13MP back camera + 13MP front camera
- 2GB RAM + 32GB ROM
- Android 4.2

THL T100S Smartphone Basic Parameter Information
Model: ThL T100S Iron Man
Band: 2G: GSM 850/900/1800/1900MHz
         3G: WCDMA 850/2100MHz
Sim Card: Dual SIM Card Dual Standby(one micro-sim card)
Service Provide: Unlocked
Style: Bar
Color: Golden
Shell Material: Plastic
OS: Android 4.2.2
CPU: MTK6592W, Cortex A7 octa core, 1.7GHz
GPU: Mali-450 MP4
ROM: 32GB
RAM: 2GB
Display Size: 5.0 Inch
Type: IPS, capacitive touch screen, Corning III gorilla glass, OGS technology
Resolution: 1920 x 1080 pixels
Screen Color: 16000K Colors
Card Extend: Support TF card up to 32GB extended
Camera/Picture Resolution: Dual Cameras,13.0MP front camera, 13.0MP back camera with flashlight and auto focus, up to 4160 X 3120 pixels resolution,support full screen caputuring

THL T100S Smartphone Basic Function
Ringtones Type: Polyphonic/MP3
Audio File Format: MP3/WAV/AMR/AWB
Video File Format: 3GP/MPEG4
Image File Format: JPEG/BMP/GIF/PNG/GIF
E-book Format: TXT/CHM/DOC/HTML
FM Radio: Yes, earphone needed
Earphone Port: 3.5mm
Data Transfer & Connectivity
Data transfer: USB/Bluetooth
Mobile internet: WAP/WiFi
Phonebook: 500
Message: SMS/MMS
Input: Handwrite/Keypad
TV: No
GPS: Yes, built in
JAVA: No
WIFI: Yes, 802.11 b/g/n
Bluetooth: Yes
Gravity Sensor: Yes
Multi-Touch: Yes, 5 point touch
Standby Time: About 2~3 days
Language: English, Bahasa Indonesia, Bahasa Mealyu, Cestina,  Deutsch,Espanol, Filipino, Francais, Khmer, Italiano, Magyar, Nederalands, Portuguese, Romana,Vietnamese, Turkish, Greek, Russian, Hebrew, Arabic, Thai, Korean,Simplified/Traditional Chinese
Other Feature: 3G, WIFI, GPS, FM, Bluetooth, Ebook, Email, Messaging, wallpapers,calendar, calculator, clock, camera, tethering & portable hotspot, NFC, OTG, Play Store, etc

THL T100S Accessories:
1 x 2750mAh Battery
1 x 3.5mm Earphone
1 x USB Cable
1 x Charger
1 x User Manua

THL T100S size: 144.2 x 70.4 x 8.8mm/5.67 x 2.77 x 0.35 inch
THL T100S Weight(Including battery): 146g
Note: Please remove the Plastic Strips on the battery before using!
You may also be interested in the following product(s)
Questions on ThL T100S Iron Man Smartphone MTK6592 2GB 32GB 5.0 Inch FHD Gorilla Glass
Sort by

From john at

10/20/14 11:10 AM

From SAM at

10/18/14 8:49 PM

From Mark at

9/28/14 4:17 AM

From Alfred at

9/11/14 11:41 PM

HI,

What is the warranty period for the phone THL T100S Iron Man and how much is extended warranty.
How does the warranty process works out, do you have a dealer in Australia?
Do you have service centre in Australia.

How long will the delivery take, because one of my friend got his mobile only after 5 weeks, via Singapore and Finland

Thanks & kind regards,
Alfred
THL Mobile
Thank you for your mail.
I regret that we have no dealer or re-seller in Uganda,
we do not have service centre in Australia,
you will got your package in 3-5 business days around by DHL.

From ren at

9/8/14 7:08 AM

From Shanel at

9/2/14 4:48 AM

What it is reason that when I press the BUY NOW button it transfers me to another website called POPMALL?? There I am asked to register all my details again, when I'm already registered here.
THL Mobile
Thank you for your mail.
Inconvenience to you, we are very sorry, please buy a mobile phone on the POMP Mall site.

From aleska at

8/27/14 6:59 AM

From juan at

8/24/14 1:54 PM

From Paulo Brandão at

8/6/14 2:25 AM

From cryzone at

8/5/14 12:22 AM

Hi, I would like to know if it comes with a free flip cover as stated on the original post above and how much do I have to pay for shipping to the philippines with tracking number. And also, does this come with the MTK6592T chipset? Thanks!
THL Mobile
Thank you for your mail.
The shipping cost to Philippines is $11.60 via Singapore post with the tracking number 10-25 working days around to arrive at you,
ThL T100S come with MTK6592 CPU.

From LEE at

7/22/14 9:23 PM

From Cleo at

7/19/14 8:39 PM

Where are you located?
What is the estimated shipping time to ship to Florida and what will the total shipping and handling be?
Thl Mobile :
Thank you for your mail .
Our factory is located in Shenzhen ,China .
The shipping cost is $11.6 via SIngapore post and the total is $281.59

From vijay at

7/9/14 3:09 AM

From Danny Boy at

7/7/14 5:24 AM

From Ignacio Cruces at

6/30/14 1:38 PM

I need to know if they can send to chile this smart phone. Should be so much would the total purchase (phone + shipping)
thank you very much
THL Mobile
Thank you for your mail.
We support shipping to Chile and the shipping cost is 11.60USD, total cost is $311.59.

From ramon at

6/9/14 4:07 PM

Hi there,

I just bought this phone, my order is: 920012051.

Just to remind you, if you can send this package as if it cost less 50usd because I have to pay more in taxes if the importation is valued in more than 50usd. I've read in some of QA product section that this is possible.
THL Mobile
Thank you for your mail.
We can write a smaller value lower than 50usd in the shipping documents so to avoid or reduce custom duties and tax.

From Pablo Rayo at

5/23/14 4:02 PM

From oyewale at

5/8/14 6:34 AM

From Sudharsan at

5/5/14 11:17 AM

Hi, I am Sudharsan from India, I would like know few details:

1. Do i need to pay custom duty if i purchase from the website
2. do you guys have service centers for this mobile in india
3. Does the mobile come with Flip Cover or case with it.
4. Does it support Indian GSM sim.
5. How long does it take for you to ship to india.

Please let me know i am very eager to buy this.

THL Mobile
Thank you for your mail.
We are not sure about your local customs, but we can help you reduce and avoid import taxes by declaring prices low, declaring the contents as "electronic accessories" or other items and shipping in simple packaging,
In India, THL companies do not have service center, if there is any quality problem, you can send us,
THL T100S phone come with plastic case,
THL T100S phone support Indian GSM SIM,
you will got your package in 3-5 business days around by DHL.

From Colin at

5/1/14 7:42 PM

From jose at

4/29/14 3:16 PM

From Mike at

4/28/14 8:34 PM

From hasan at

4/27/14 3:30 PM

From stefano at

4/22/14 9:44 AM

hi
i'm really interested in buying ThL T100S Iron Man Smartphone MTK6592 2GB 32GB 5.0 Inch FHD Gorilla Glass, i'm about to order it but i would like to know if it is possible to have a black plastic shell material. Moreover are there any more taxes in shipping towards italy? thank you for your kindness
Thl Mobile
Thank you for your mail.
THL T100S plastic case is the random distribution,
We are not sure about your local customs ,but we can write a smaller value lower than 50usd in the shipping documents so to avoid or reduce custom duties and tax.

From anne at

4/18/14 3:46 AM

From mohamad at

4/15/14 12:14 AM

From haider at

4/5/14 8:43 PM

From ton kroon at

3/25/14 5:51 AM

From Radoslav at

3/24/14 5:22 AM

From radkoo at

3/14/14 12:41 AM

From Johannes at

3/12/14 4:55 AM

From giuliano at

3/9/14 6:44 AM
Ask Your Own Question
Customer Reviews
a month of use Review by

rico

Great and clear sound on phone speaker. Explendid and vivid picture.
Manage to get 2 days battery with intensive use (wi-fi, gps, data on, gaming), almost 6 days with a few phone calls, sms's, mail consulting and a + - 15 min. gaming daily.
The only thing not so god is the wi-fi range, but the speed in wi-fi or gsm data (H+) is funtastic like a medium laptop! (Posted on 10/13/14)